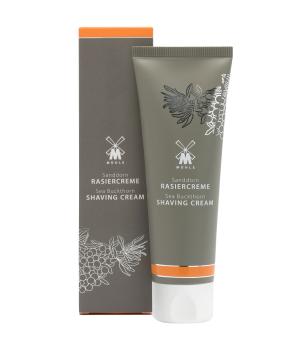 Mühle Shaving cream - Sea Buckthorn 75ml
Sea Buckthorn – fruity und fresh. With fine fragrance notes of lime and orange: sea buckthorn cream. Minerals and trace elements nourish and refresh the skin and the senses.

Treat your skin with this premium shaving cream. A fragrance of lime and orange emerges along with the rich, creamy lather, helping to make your shave a pleasure for all your senses.
Ingredients
Aqua (Water), Potassium Stearate, Potassium Palmitate, Potassium Cocoate, Glycerin, Sodium Stearate, Sodium Palmitate, Sodium Cocoate, Cera Alba (Beeswax), Potassium Myristate, Cetyl Palmitate, Hippophae Rhamnoides (Sea Buckthorn) Fruit Extract, Parfum (Fragrance), Potassium Laurate, Sodium Myristate, Sodium Silicate, Sodium Thiosulfate, Hexyl Cinnamal, Limonene, Linalool
Country of origin: Germany