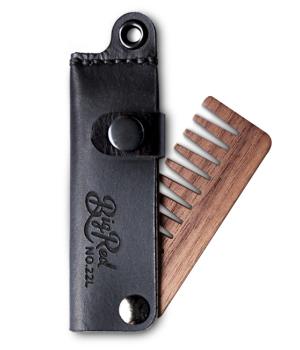 Big Red Beard Combs - Beard comb No.22L wide tooth Black
Leather Double Deuce No.22L is designed to have all the great features of the classic Double Deuce, but in a more compact size. The Leather case protects the Beard Comb and features a snap closure to keep it in place. A grommet has been added to allow you to clip the Leather Deuce on your keys and go. Hand-crafted from high quality leather and our classic 5 ply laminated Beard Comb, this beaut will keep you looking damn handsome in style.
No.22 is designed to be adaptable. By easily removing the rivet the user can swap one comb for the other in a matter of minutes. If your Beard is short, start with the Fine Tooth & then swap for the wide tooth Comb insert once it gets longer. The No.22 becomes a comb that grows as your beard does.
Blacked out kit – Black leather, grommet, rivet & snap
Wide tooth pattern
Hand-crafted leather with snap closure
Comb is constructed with a 5 ply laminated material. Walnut outer with a Maple core -creating a Maple 'pinstripe'
Grommet for clipping on keys
Open Dimensions: 7-1/4″(18.4cm) long x 1-1/4″(3.2cm) wide x 5/8″(0.7cm) thick
Static Resistant
Country of origin: Canada