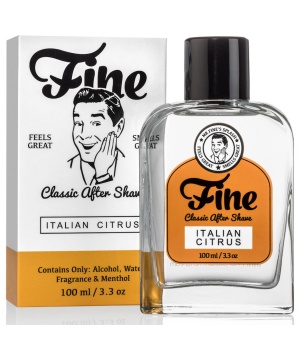 Fine Accoutrements Aftershave lotion Italian Citrus 100ml
Fine Italian Citrus Classic Aftershave is an elegantly formulated throwback to a time before shaving was refashioned into dermatology. Expect to immediately fall in love with its refreshing face feel accompanied by a timelessly sublime fragrance blend of citrus and florals. Inspired by Acqua di Parma Colonia (1916) - the signature scent of the finest Italian tailors and the epitome of Mediterranean panache.
Apply liberally for a refreshing and therapeutic after shaving experience that delightfully exceeds the sum of its parts.
Country of origin: USA