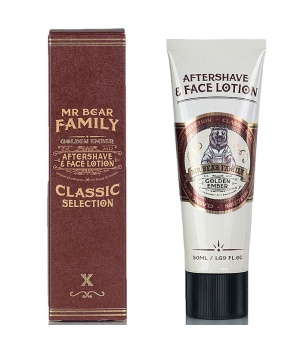 Mr Bear Family Aftershave & Face Lotion Golden Ember 50ml
Calming and moisturizing the skin after a razor made its way over it is not an easy task. It is with that in mind that Mr Bear had the idea of a combined aftershave and face lotion. After carefully crafting the recipe and putting it to the test a number of times he finally perfected it. And thus, the Aftershave & Face Lotion Golden Ember was born. With the Golden Ember signature ingredients safflower oil and birch leaf extract present, it carefully soothes your skin. Whether it is after a close shave or your daily wash – your skin always deserves the best.
Key ingredients
Squalane – Moisturizing and sebum balancing
Safflower Oil – Stimulates blood circulation and skin regeneration
Birch leaf extract & Witch hazel – Reduces redness and swelling and has an astringent effect.
Country of origin: Sweden