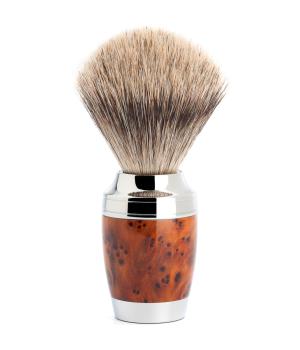 STYLO - Shaving brush from MÜHLE, fine badger, handle material thuja grain wood
Shaving brush with fine badger
Ring size M: 21 mm to unscrew
Handles made of thuja grain wood with chrome-plated metal highlights
The Material - Thuja grain wood
From golden brown to ruddy, with subtle or vivid veining in the grain: The burl of the sandarac tree, or Barbary thuja as it is also known, is regarded as one of the most valuable and most beautiful woods in the world. The strongly grained root burl only grows to a respectable size once the tree has died.

The tuber is therefore hide to find and to recover. The scantlings are picked by hand and turned. Only sections displaying an exceptionally beautiful grain are used. While being made into handles the wood is stabilised and coated with high-grade resin in a special procedure. This makes it water-resistant and hard-wearing. The high-gloss surface very expressively accentuates the individual veining of the grain.

Without chrome the world would forfeit a lot of its lustre. In the finish used for our wet shaving accessories it demonstrates its best qualities: The material is corrosion-resistant, very long-lasting and has a luxurious, alluring lustre. When contrasted with this, the colours and shapes of other premium materials are shown to their very best advantage.

The Brushhead - Fine badger
Fine badger is softer than pure badger, but somewhat firmer than silvertip badger. The hairs are light grey in colour and feature the dark stripe or band typical of high badger hair qualities.

This natural hair material is extremely well-suited to wet shavers who value the softness of badger hair and want to achieve a massage effect. We process this quality mechanically according to the high standards which we apply to all MÜHLE products. If required, the crown of the brush head is slightly trimmed to obtain the perfect, typical shape of every single product.

Measures
Dimensions: 36 mm x 110 mm
Weight: 134 g